This small fluted porcelain cup standing 5.7 cm high is part of a small group of English porcelains numbering some 45 extant examples known as the 'A'-marked group or more correctly members of the 1744 Heylyn and Frye patent. We would suggest that this small group is arguably the most significant group of 18th C English porcelains based on a number of criteria.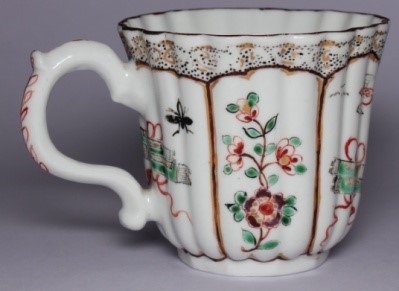 Figure 1. Fluted coffee cup of the 'A'-marked group sold at Woolley and Wallis Salisbury, 4 June 2008, Lot 511. This cup was produced using a mixture of Cherokee clay imported into London c. 1743 and finely ground calciferous, lead-free, bottle glass. The cup is decorated in the Chinoiserie manner with flowering stems and precious objects using iron red, green, brown, with gilding. Also present is the characteristic decagonal foot rim to the cup.
The importance of this cup to us revolves around the fact that for the last 20 years both Gael and I have devoted part of our lives to researching this hitherto enigmatic group of ceramics to which this cup belongs. Back in 1999, whilst still living in Australia, both of us became aware of the 1744 ceramic patent of Heylyn and Frye supposedly designed to produce a porcelain body using Cherokee clay imported into Britain from the Carolinas. Several aspects of this patent document struck us at the time:
The clarity with which it was written;


a clear reference to the use of Cherokee clay which from the patent description was a primary China clay; and


for some 100 years English ceramic experts had gone out of their way to discredit and/or marginalise this patent specification as being uncertain, hesitant, almost certainly unworkable, and not worth the paper it was written on.
These features kindled our interest and we flew in 1999 to far west North Carolina in search for this Cherokee clay. We believe we found the clay deposit utilised by both Andrew Duché and Thomas Griffiths, an agent for Josiah Wedgwood, however more recent research by Pat Daniels has suggested that the initial Duché deposit, whilst of the same age and composition, may have been further south. Over the last 20 years we have produced a number of research papers on this group of porcelains including:
Proposing dates of manufacture and the manufactory itself from which this group came;


demonstrating that the 1744 patent specification is arguably the most important document in English ceramic history;


firing analogue 1744 patent porcelains using both Cherokee clay and the instructions contained in the 1744 patent to demonstrate that the specification was anything but 'unworkable' or 'uncertain' and


unearthing an item of phosphatic Bow 2nd patent porcelain which demonstrates a continuum in potting and shape between the 1744 patent wares and the subsequent bone-ash body.
This cup as illustrated has now been non-destructively analysed at Monash University, Melbourne through the good offices of Dr Bill Jay and compositionally it conforms to the 1744 patent group being of the silica-aluminium-calcium type with a high Al2O3 and negligible TiO2 content suggesting the use of primary China clay. This high aluminium content indicates that the cup was high-fired and refractory, which explains why the French were so concerned to rush the Vincennes Privilege up to Louis XV to sign in mid-1745. Historical research by Pat Daniels indicates that the main reason for the Royal Society of London in funding and promoting Sir Alexander Cumming's mission to the Cherokee Nation in 1729 was to secure trade supplies of this particular China clay. Her research strongly indicates that the agent to supply this clay to London, Andrew Duché, was appointed in London in early 1732.
This cup demonstrates that Bow was operating much earlier than has been recognised to date and moreover this cup questions the premier position enjoyed by Chelsea in English porcelains. Moreover, its composition of the Si-Al-Ca type with high Al2O3 and the addition of bottle glass is intrinsically English in origin and can be traced back through experimental porcelain firings most likely sponsored by the Royal Society in 1708, and thence back to John Dwight of Fulham. We contend that Dwight is the father of the high-fired, refractory porcelain body, or more correctly a number of porcelain bodies, in the West predating Meissen by some 35 years.
Dr W. R. H. and Mrs E. G. Ramsay (New Zealand) May 12th, 2020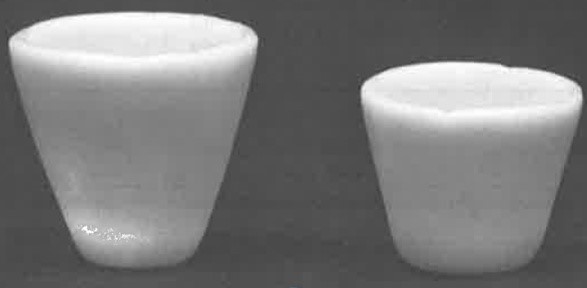 Figure 2. Analogue 'A'-marked miniature porcelain cups fired using a mixture of 50% Cherokee clay and 50% bottle glass. Maturation temperature was at 'heat-work' level of Orton cone 9 - 90O deflection at 150 OC per hour (1279 OC). Modal composition comprises Ca-plagioclase and two glassy phases.